How To Purchase The Appropriate Diaper Bag?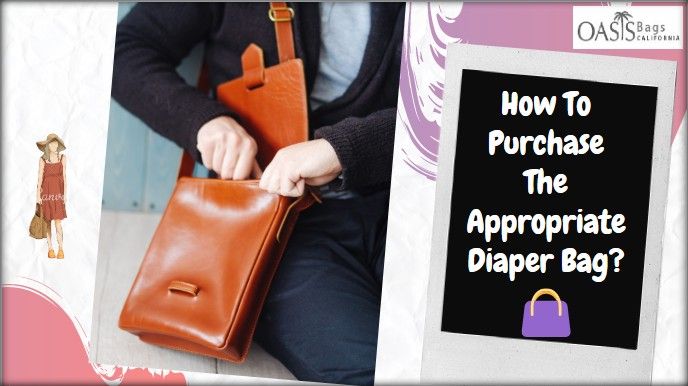 Once you have a baby, the diaper bag and the baby will go everywhere with you. However, even before the little munchkin arrives, you have to find that perfect diaper bag. Be it a comfortable multitasker or a designer backpack diaper bag, choosing the appropriate variant is important for you.
In fact one of the popular suppliers have come up with wholesale diaper bags you can definitely have a look at. Therefore, read on the blog below to know more about the same.
Messenger Diaper Bags
Messengers are one of the commonly used traditional diaper bag. The size and numerous pockets make it easy to hold and organize all yours and baby's day out essentials. You won't ever have to frantically search for a burp cloth and wipes when your baby starts spitting up in public. And the adjustable cross-body straps you securely hold your bag while also making it easy to open up and grab whatever you need.
Backpack Diaper Bags
Backpacks have all the pockets and organization you needed for school, and backpack diaper bags offer you all those handy pockets and organization required for your journey through motherhood. These hold a lot of stuff, from your baby carrier to extra clothes, swaddlers, diapers, wipes, bottles, keys and everything in between.
Convertible Diaper Bags
If you can't decide between a messenger, tote bag and backpack diaper bag, a convertible diaper bag, is the best option for you. Most of them are a triple treat, converting into those three different styles, while others convert into at least two of the three common diaper bag types. This flexibility is great if you find one style to be more comfortable or convenient for different outings or want to easily convert between diaper bag types.
Designer Diaper Bags
If you're a fashionista mom, a woman who's ready to be a mom but not quite ready to give up her designer handbags, then designer diaper bags is definitely made for you. These are gorgeous, high quality and made by the high-end designer handbag brands you already love.
Hence, business owners who want to offer a wide range of trendy bags to their customers can contact one of the popular manufacturers in the industry. You can browse through a range of school bags, cosmetic bags, handbags, etc. and invest in the same by dropping a mail to the customer care team.
Read More- What Are The Different Styles of Diaper Bags Available In The Market: A Style Guide!
Audio Version: How To Purchase The Appropriate Diaper Bag?