Here's How The Latest School Bags Can Make Your Experience Better!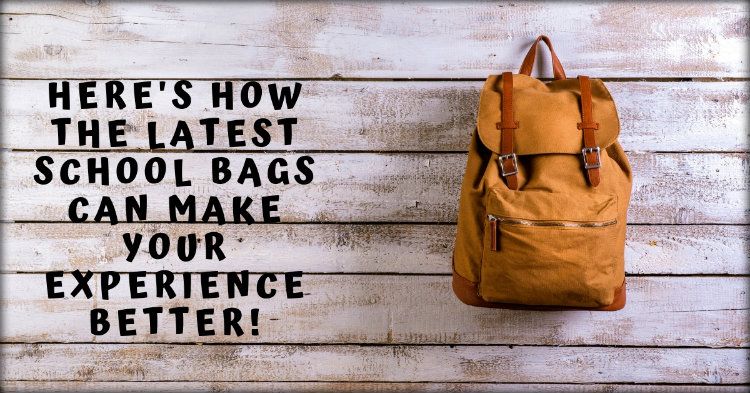 School bags are by far one of the most interesting and important part of our education lives. These close companions spend a lot of time with their partners during the formative years in school.
Today, manufacturers are working to make school bags better and if you want your kid's companion to be better, then here's a look at what the latest ones have to offer!
Separate shoe enclosure
One of the many problems that wholesale bag suppliers did not account for before is getting a separate shoe enclosure. This helps you keep your bag clean and spacious while being able to carry your sports shoe along for practices.
Before this, one would have to get a drawstring bag and stuff in the shoes to make sure that they did not make the other things dirty!
Insulated water bottle section
An insulated section with a silver color lining underneath to keep the summer heat at bay and keep your bottle cool is an extraordinary addition to modern bags. This one can keep your cold water chilled for a long time throughout the day.
This section is also applicable for your cold juices and more – all of which factor in to make your bag experience better.
Separate waterproof section for your electronics
Whether it is your phone, iPod, or tablet, keeping electronics safe is very important. Manufacturers who produce school bags wholesale today, make sure that each of the products have a separate section that is absolutely water proof and keeps your valuables safe.
Keeping them dropped around like litter in your school bag is probably not the best idea for their longevity!
Rain and weather proofing
Gone are the days when you had to constantly worry about not getting caught in the rain. Because people who did had quite the trouble keeping their belongings safe from the water. However, with modern school bags opening way for rain covers and weather proofing, you do not need to think much about it anymore!
These are the 4 ways in which modern bag manufacturers have made your school bag experience better. So, what are you waiting for? Get yourself a bag with all of these features and gift your kid to bring a smile on their faces!