7 Cool Backpack Features that are Highly Useful for Students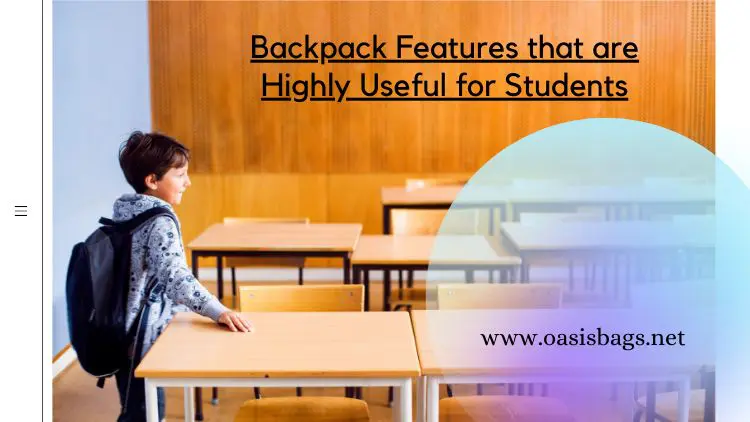 Looking for a suitable bag for your child or teenage kid? Or, are you a student with an eye open for a sturdy school backpacks? Then, you must note that your desired backpack model has these 7 amazing features which enhance the utility of all kinds of school backpacks. If you're a business owner on the search for backpacks, get in touch with the best among backpack manufacturers to stock up stylish and efficient backpacks.
Thin backpack straps may pierce through your skin and cause pain. Look for a backpack with wide padded straps as these will offer added comfort to your child's shoulder. Padded straps also turn to be a must if you plan to carry your backpack for long-distance traveling.
A good backpack usually includes a lot of compartments in different sizes. These multiple compartments not only help to spread the weight around and prevent strain but also help in keeping things organized and easy to access.
Exclusive Pockets for Pens and Pencils
Staying organized becomes simple and fun when a backpack has designated pockets for every item you carry. Look for separate pouches for pens and pencils in your kid's school backpack so that they can avoid the dump and search mess.
Laptop being a fragile device needs to be carried with care. Modern backpacks often include a cushioned laptop sleeve to keep your laptop safe and protected from harm.
Easy-to-access pockets and quickly releasable latches are a convenient replacement for zippers and buckles. These are an awesome feature for students on the move.
Durable Material Composition
If you want your backpack to last long, find a well-constructed backpack made of durable nylon or canvas material. This will save your investment on another backpack after a while.
Feel irritated when your notebook gets soaked? To keep your notebook dry as well as your cell phone or tablet safe from water contact, a waterproof pouch can be a superb addition to a modern backpack.
As a retailer eager to stash up cool backpacks, you should link in with a leading bag manufacturer, especially famed as one of the renowned school backpack manufacturers. This connection can help you obtain sturdy wholesale backpacks and striking school backpacks with upgraded features.
Audio Version: Click Here
Direction: https://goo.gl/maps/Azb5VLGV5Z922tEr6